Membrane Air Dryers Market Size
Membrane Air Dryers Market size is estimated to reach USD 743.1 million by 2022; according to a new research report by Global Market Insights, Inc.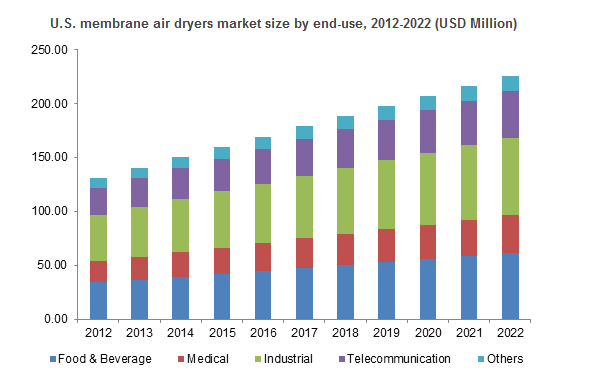 These devices offer numerous benefits such as lower dew point and ease of contaminants removal, thus helps in improving compressor systems functionality. Surging demand across the food & beverage industry owing to several standards and practices offers viable growth opportunities. Compressed air usually contains moisture and lacks quality required by various intended applications. This in turn is likely to drive global membrane air dryers market size over the forecast timeframe. Furthermore, rising adoption of these products in order to improve operational efficiency will positively impact the industry growth. Membrane dryers usually need pre-filtration as they can be easily fouled by oil or other contaminants, hence a coalescing filter is used to provide protection.

Sign up for our newsletter to stay up-to-date with our promotions, discounts, sales, and special offers.