Congratulations on the successful opening of the 2020 Hangzhou Shanli sales director meeting
From September 10 to September 11, 2020, Hangzhou Shanli sales director meeting was successfully held. The management of the company, the director of customer service center and representatives of relevant departments attended the meeting.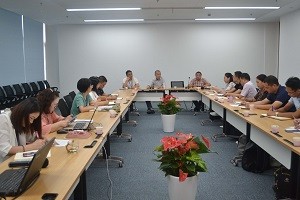 Mr. Zhu Hongwei, chairman and general manager of the company, delivered a speech at the meeting. On behalf of Shanli, he expressed his heartfelt thanks to all the sales staff for their hard work and support, and fully affirmed and highly praised their achievements.
The director of each customer service center also reported and summarized the recent work. The market situation of each region was communicated, and the problems were summarized in terms of market situation, products and technical support services. The company attaches great importance to the relevant problems of market feedback, and actively responds to them to ensure continuous provision of high-quality products and meticulous service for customers.
At the meeting, we focused on two aspects of sales work. First: accessories sales management. The content includes how to face up to the problems existing in the accessory sales management and how to further strengthen the accessory sales management. Second: Sales Management of the whole machine. The content includes how to strengthen the direct selling ability of the sales team and improve the project reporting and project cooperation. In view of these two aspects of work content, everyone expressed their own opinions, formulated detailed plans, made effective and comprehensive work deployment, and laid a solid foundation for the following sales work.
At the end of the meeting, president Zhu made the following conclusions:
1.Improve accessories management and sales norms
2.The company emphasizes that the sales team should correctly face the direct sales project attitude, strengthen the ability of direct sales project, and improve the cooperation depth with agents.